The stars in the sky were shinning down on the Oscar women and their magpie bling. They were beaming brighter than the stage lights. S
ophistication and
stateliness
was combined with beauty and women-power.
From Charlize Theron's cropped cut to Jessica Chastain's long spun gold hair to everything inbetween the top looks screamed individuality...
1. Jessica Chastain was flawless in her monochromatic Oscar gold.
2. Charlize Theron, the modern Greek goddess whose statuesque appearance stunned everyone.
3. Anne Hathaway was simply sassy, unique and chic.
4. Jane Fonda was a "neo"- classic. Everyone should draw inspiration from her.
Oscar Presence 2013
Hair: circa 30s, 40s and 60s
From cascading waves, to statuesque short hair, to Jennifer Lawrence's chingon, the Oscar women all looked outstandingly beautiful. Halle Berry made her own statement with her deco look and juxtaposed punk rock hair. Oscar hair had certainty.
Dresses: the brighter shades of pale
Pale hues were popular from limoges whites to buffs and pale bronze. Anne Hathaway wore a pale pink crystal champagne dress inspired by Audrey Hepburn in Sabrina.
We can't forget about all the sparkle-plenty gowns that walked the red carpet: Halle Berry, Nicole Kidman, Adele,
Stacy Keibler, and to top it off, B
arbra Streisand
beaming with a golden light from above.
Makeup: Zoning
The women of the night were zoning makeup. If the lips were soaked in a deep grenadine red, the eye makeup faded into a fleshy tone with lots of lashes. If the lips were pale pink and beige, the eyes faded to black.
The news for men was makeup
- groomed beards.
Additional Images From The Night
Halle Berry with her deco punk hair
Reese Witherspoon with ravishing waves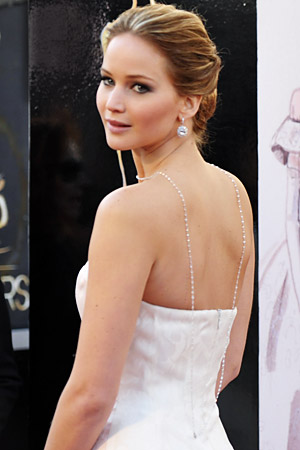 Jennifer Lawrence'
s pulled back chingon gift wrap bun
Nicole Kidman with her soft tendreled updo